All Sartek Products are Made in the USA!
SARTEK SAFEAIRE ANTIVIRAL AIR FILTER SYSTEMS
U.S. Patent Pending Number 63042312
No....This isn't another "catch and release" air filter system!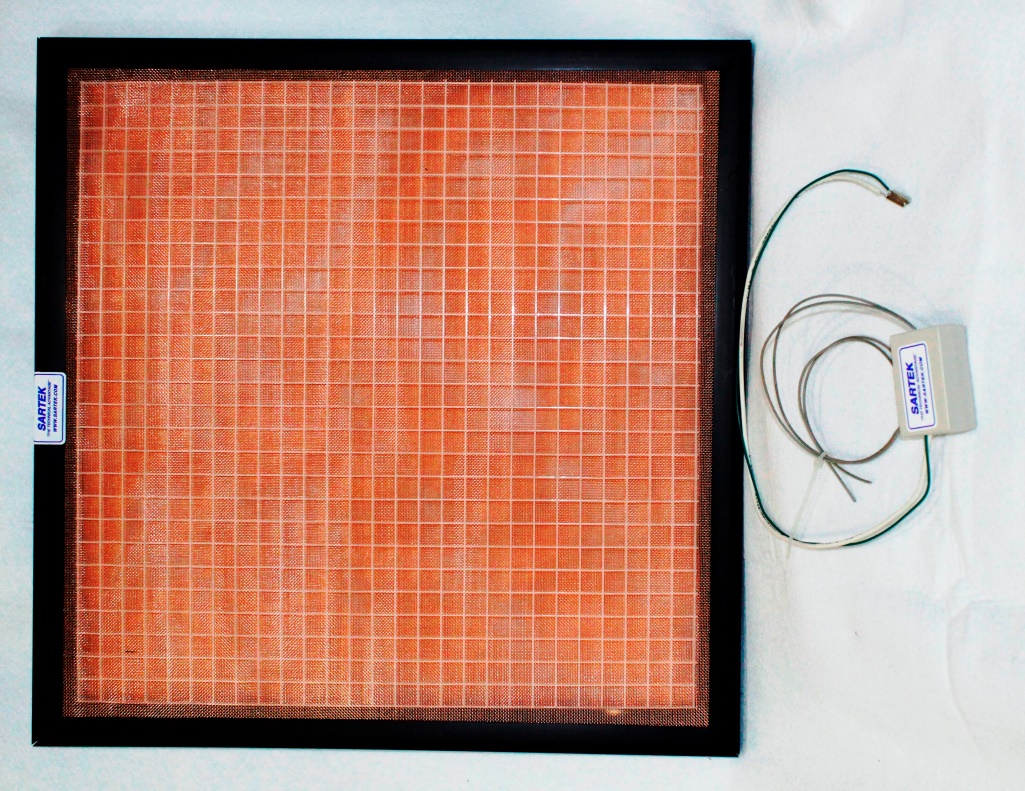 Why is the Sartek SafeAire Filter system better than the competition?
It actually works !
Many of the air purifiers that are being sold as "antiviral" do not stop or neutralize viruses this includes HEPA and high rated MERV filter systems. Recent action by the Federal Trade Commission was taken to stop the false advertising of many of the air purifier manufacturers that claim to stop the Corona Virus.
Let's go into how and why these various air purifiers function and what they can and can't do.
Particulate Filters: These filters remove particles from the air stream by having openings that are smaller than the particles in the air. HEPA and high numbered MERV filters are probably the most cited as being able to stop the Corona virus. These filters are able to block 99.97% of particles as small as .3 microns.There are numerous problems with these filters. The first is that the size of the actual bare Corona virus is approximately .05 microns in diameter, and would pass through those filters easily. The HEPA filters use a combination of materials that attract particles to adhere to the filter material rather than pass through. This adhesion creates a second problem for these types of filters, because the virus or bacteria can multiply as other contaminants that are trapped on the filter can act as nutrients that permit viruses and bacteria to actually thrive and replicate on the filter material which can then permit the reintroduction of new and more contaminants into the air stream. The filters that rely on their "attraction effect" actually lose their attraction over time and can also become blocked to the point that the filter must be discarded and replaced. Another tremendous disadvantage of particulate filters is the energy and system modification costs. A HEPA or high rated MERV filter can actually increase energy consumption for a HVAC system by 10 times. In order to overcome the flow restriction of these filters the installation must be able to contain a much larger surface area to maintain the required flow for the HVAC system, which requires the use of a pleated filter material and usually modification of the filter holding assembly. These filters have a limited life and need to be disposed of when they no longer can be cleaned. This creates another potential problem with the handling and disposal of a filter that potentially contains active virus and bacteria.
UVC Systems:
UVC systems, when properly designed and installed, are effective in neutralizing viruses and bacteria. The requirements for a UVC system to be effective are as follows: The combination of parameters that will work for neutralizing a virus or bacteria is the strength of the UVC radiation and the amount of time of exposure. UVC lamp systems currently sold and situated in a high flow airstream do not impart enough energy or have enough time to neutralize virus and bacteria. If a high energy UVC system is installed, it has another potential problem with the generation of Ozone. Ozone itself can act as an antiviral/antibacterial process but it can't be release into breathing air, as it can be harmful to humans. This necessitates the installation of a activated charcoal filter or another restrictive filter that will neutralize any ozone in the air flow. The method most widely used by many UVC air purifier manufacturers is the placement of a restrictive particulate filter that is exposed to the UVC radiation. This system does work but it has all the inherited problems of a particulate filter system, including the restriction to air flow and increased energy costs.
Some of the features and benefits of the Sartek SafeAire Filter:
The Sartek SafeAire Filter was tested by a certified laboratory, installed on a PTAC running at 350CFM. Our bare filter (no prefilter or other filters) eliminated 99.9% of a test virus PHI X174, in a 1000 cubic foot chamber, in under 2 hours. The Sartek SafeAire filter performed this task with less than a 4% reduction of airflow!
Physical particle filtering, available with different mesh sizes, to permit standalone use or use with other particle filtering media.
Electrostatic smoke, vapor and dust removal
Electrostatic neutralization of viral and microbial particles
Electrostatic collection of active virus and microbes on a surface that is toxic to them
Low energy consumption, less than 6 watts on even very large air systems
Tremendous system energy cost reduction, typically up to a 10 times reduction in system power requirements over HEPA filters, for the same air volume filtered.
Adaptable to existing systems without major filter container modification.
A truly washable and easily maintained filter that will remain effective throughout its' life, without any serious reduction of effectiveness.
Environmentally friendly, virtually eliminates the need to dispose of filters in a land fill
Safe handling, viruses, microbe and bacteria are neutralized after brief contact with the filter, therefore the potential of human contamination is virtually eliminated.
Very short period for return on investment. The Safeaire system typically costs the same a 1 HEPA filter and the Sartek SafeAire system will last 10+ years. The SafeAire filter can be easily fit into a 2" filter holder, whereas a typical HEPA filter will require a 12" to 18" filter holder, to be installed to accommodate the same air volumes.
No electrician required, the SafeAire control module uses 24VAC and can be connected to the HVAC system's low voltage control supply.
Non-toxic materials, the SafeAire system uses materials that are safe for humans and animals but toxic to viruses, bacteria and microbes.
The filter system has no moving parts and the effectiveness of the antiviral/antimicrobial material does not diminish over time.
The SafeAire system can be used in conjunction with other filter media such as UVC, Activated Carbon, MERV filters to create the most effective system for the facility being protected.
CONTACT SARTEK with your filter size and we will give you a quote for a SafeAire Filter to fit your HVAC system.
Shown in the photo (above) is a 20"x20"x 1/2" SafeAire Filter and control box.
SARTEK SAFEAIRE PURIFIER SA110
The Sartek SafeAire model SA110 unit below is rated at 110 CFM and can turnover and filter the air in a 1000 cu ft room more than 6 times an hour.
This unit uses a safe 12vdc power supply so they can be used plugged in to house power or connected to a cigarette lighter outlet in a car or boat. Retail Price $250 plus shipping.
We are offering a limited time discount of 30% off the retail price as an incentive for our customers to find out how good our lab tested system performs. That's right $175 plus shipping.
We are also building custom larger versions of these filters that can be installed in existing HVAC, PTAC, room air conditioners and standalone air filter systems. Contact us at info@sartek.com for more information and pricing.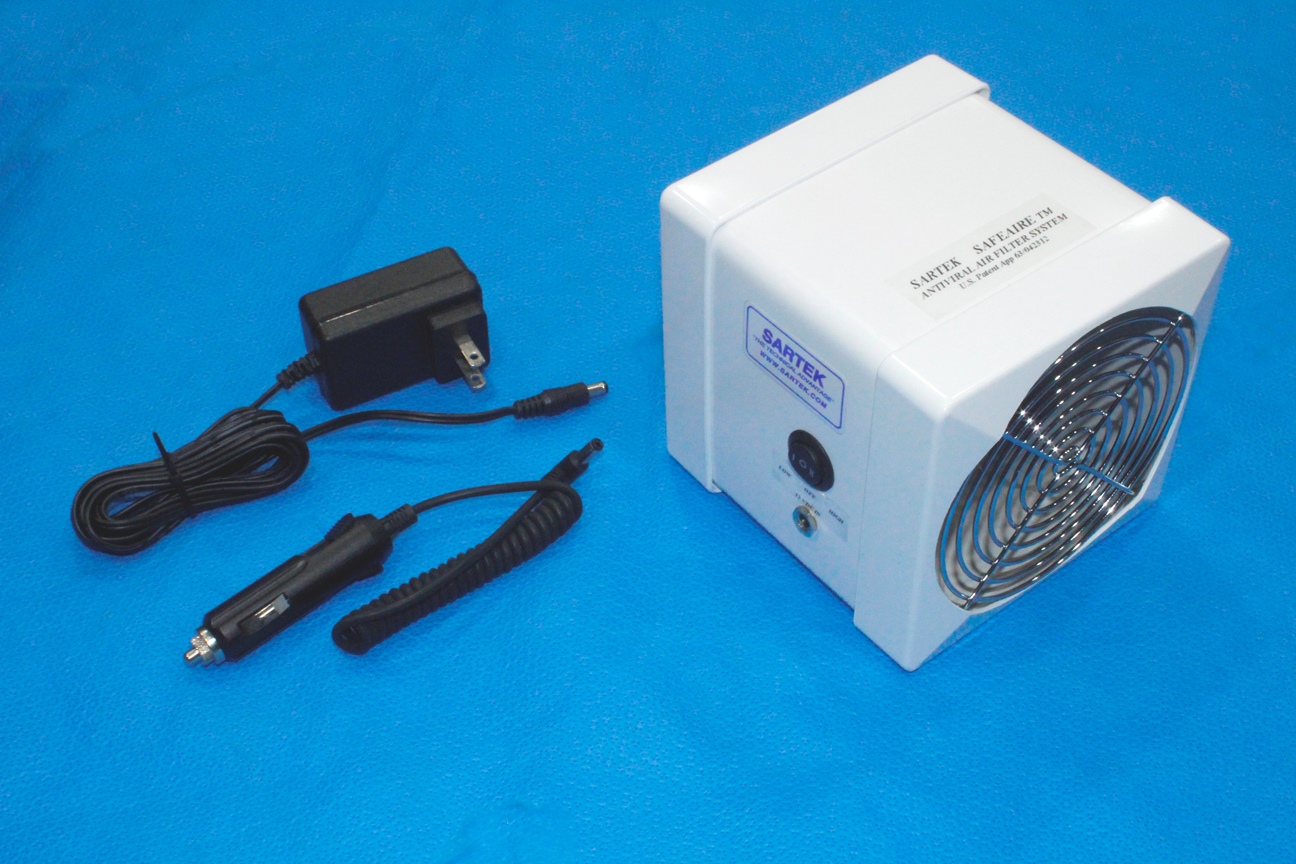 NEW RSV CLIP SYSTEM FOR PUBLIC SAFETY DIVERS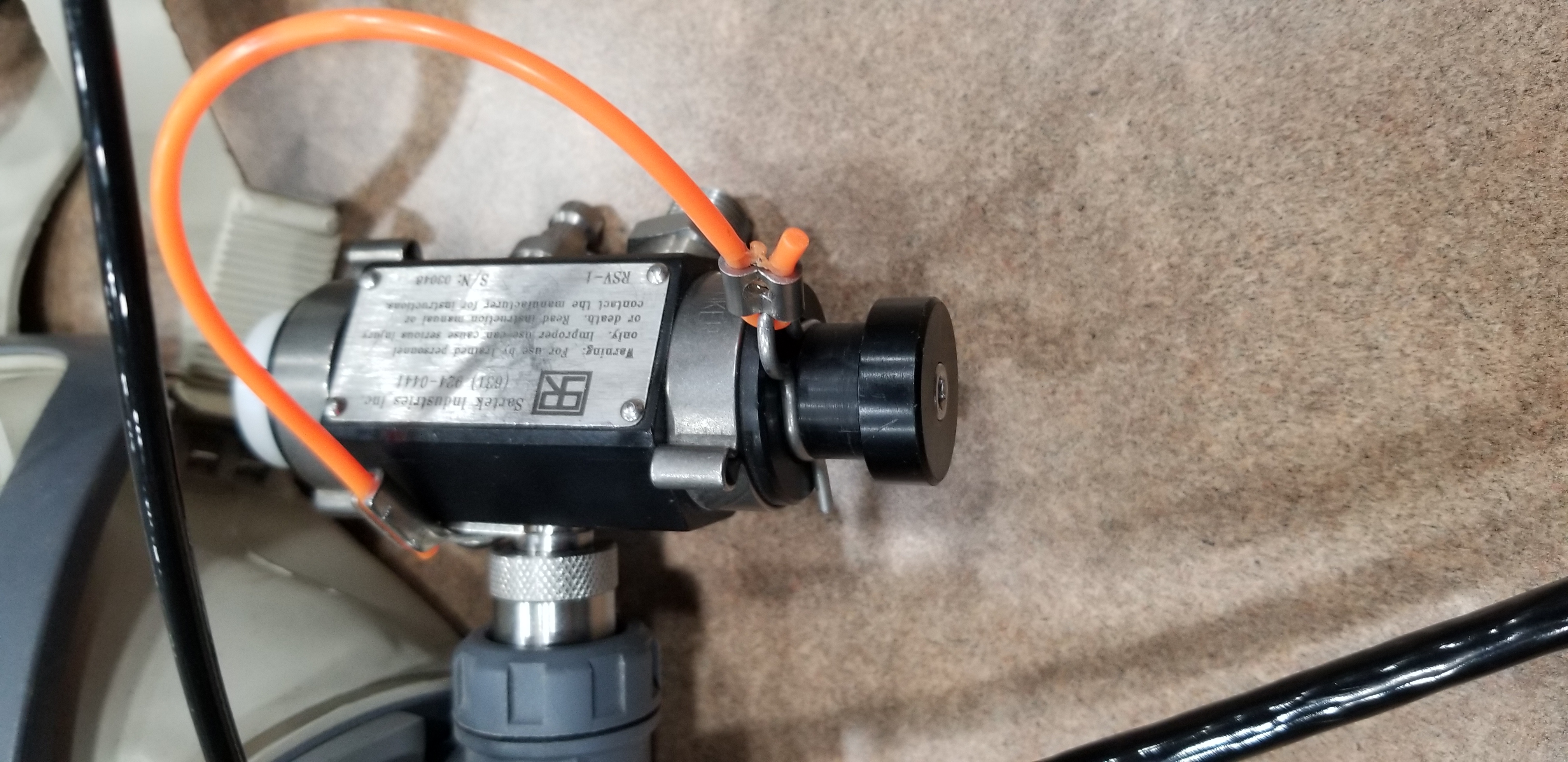 This new clip system helps the tender to indentify that the RSV-1 is in the start dive position.
Contact Sartek regarding upgrading your RSV-1s to the latest configuration.
SARTEK HIGH DEFINITION SCIENTIFIC DROP CAMERA SYSTEM FEATURES AND SPECIFICATIONS
Custom High Resolution Camera – 1080P TVI color camera in a 316 Stainless Steel housing, built in LED illumination, Wet Mate connector, depth rated to 1000'+
Custom 150' Surface tether with 8 conductors, coax cable, water blocked, internal 2000 lb. test Kevlar cord, Polyurethane protective jacket and a 2000 lb. test Poly Over-Braid with Wetmate output connections.
Custom Rugged Powder Coated Steel Reel system with 8 conductor slip ring to permit continuous uninterrupted signal and tripod component control while deploying or retrieving the camera platform. Detachable rewind handle, adjustable tension brake system.
Custom Camera Tripod Platform- Hollow Tubular 316 Stainless Steel System with adjustable weighting (lead shot fillable and attachable external), Adjustable Position Camera Gimbal with 2 integrated, parallax adjustable, fixed position 532nm Wetmated lasers, 2 Adjustable position, 3600 lumen, 6000K LED Wetmated video lights, Components can be securely anchored when optimum preferred position is attained.
Waterproof Surface control box with System Master Power, Laser Power, Internal Camera Lights Power, External Side Illumination Power controls, High Definition 1080P TVI Video, Composite Video and HDMI outputs, PC controlled Text Overlay with GPS Data imbedded in a Composite Video Signal. System Power included options include: 90-260VAC 50/60Hz, 12VDC Mobile Power source (cigarette lighter outlet) and Internal Rechargeable NIMH 13.5VDC 9AH battery.
Checkout a video shot with the Sartek Modified Housing and Sartek Lights: www.vimeo.com/27873893
The VP of Sartek's Herding Department
Molly
Assistant Herder and little sister - Jordy
Both Molly and Jordy are rescues and part of our family - Please consider adopting a rescue over purchasing from a breeder or a puppy mill, you won't be sorry!